Welcome to R.H.Cooper Ltd.'s Web Site
At R.H.Cooper Ltd., we treat each customer as an individual, not a number. We don't place you into a loan profile formula created by the banking industry. We use "common sense" and will help you obtain the best loan possible. We represent a wide range of "A" rated lenders with first quality rates to private "hardship" lenders.
We work with more than 100 investors. This allows us to get you the best rates on all types of loan programs including: 30yr mortgage, 20yr mortgage, 15yr mortgage, 10yr mortgage, 1yr ARMS, 3yr ARMS, 5yr ARMS, Conventional, Jumbo, Home Equity Lines, VA and Commercial. Whether your situation calls for Full Documents, No Documents, Non-Owner Occupied (Investor) or Multi-Family, we'll fit your needs!
Purchasing a home is probably one of the biggest investments you'll ever make in your lifetime. We are with you every step of the way. You will save a lot of time if you determine what mortgage amount you can qualify for before you start looking at homes. As a rule, you don't want to spend more then 29 percent of your gross monthly income (that's before taxes are taken out of your paycheck). You'll need to consider current interest rates. The lower the rate, the higher the home price you'll be able to qualify for. Use our calculator to give you an idea of how much you can afford.
Learning Center
FHA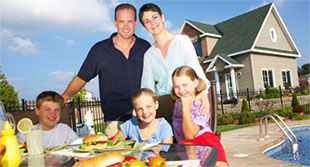 There are lots of good reasons to choose an FHA loan.
Calculate Monthly Payment*
*=This is only an estimate, provided for illustrative purposes only. Actual rates and payments may vary. It does not constitute a quota.
Latest News
With portfolios concentrated in a handful of expensive stocks, a few company-specific outcomes could have seismic consequences.
Testimonials
I was worried that I wouldn't be able to qualify for a loan. I spoke with Ross and they told me to apply on their site. The next day they not only qualified me but had me locked into a great rate.

Larry BensonChadds Ford, PA